I know it's been roughly 17 years, but sometimes it seems like yesterday when we opened the doors of our first restaurant here in the UK in 2001. When we opened The Cinnamon Club we wanted to offer the UK audience a different kind of Indian cuisine and a different kind of experience than what they were used to then. It is immensely gratifying to see what started off as an experiment with modern Indian food has become mainstream now and that more and more chefs and restaurants have adopted the values of seasonality, quality ingredients and of experimentation and innovation in everything they do.
I'm so proud that The Cinnamon Club has played such an important part in revolutionising the landscape of Indian Cuisine in the UK.
Within The Cinnamon Collection we are fortunate to have many team members that have been with us for years and have grown with the group through several positions. It's a fact that people have been our biggest asset and it's only through continuous learning and development that it has been possible.
The career progression of our teams is something we're immensely proud of and it is a commitment we extend to all our people who join us in our next phase of growth.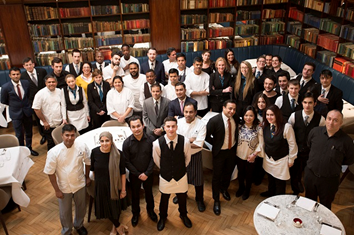 That is why I am very delighted to announce the following promotions, which are very well deserved;
Former Head Chef of The Cinnamon Club Rakesh Ravindran Nair, who has been with the group since 2002, has taken on the new role of Group Development and Training Chef. Hari Nagaraj, the Group Operations Manager, having previously worked as Head Chef at The Cinnamon Club now takes on a renewed focus on training and growing talent within the group. Group General Manager Jean-Luc Giquel , who has been with the Cinnamon Collection since 2006 will lead the Hospitality ethic, FOH service and training for entire group through CCL's internal Management Training Programmes. Raju Ramachandran, former Head Chef at original Cinnamon Kitchen in the City, will become the Group Opening Chef, focusing on setting up new kitchens, teams and development within the new sites. Santosh Shah, previously sous chef at The Cinnamon Club will take over as Head Chef of Cinnamon Kitchen in Devonshire Square. From the Front of House team, Regison Devassy, former General Manager at The Cinnamon Club, will take on the role of Executive General Manager with a focus on developing the Front of House teams at new sites. Last but not least, I am excited to see Thangavel Murugavel aka Velu Anna after all these years with The Cinnamon Collection, to go and open Cinnamon Kitchen Oxford for us and leading the Kitchen Team there.
As we embark on the next phase of growth of The Cinnamon Collection with two more restaurant openings lined up, we're looking for more people to join us on this exciting journey.
For more information on the opening of Cinnamon Kitchen Oxford and new openings, keep an eye on this link.