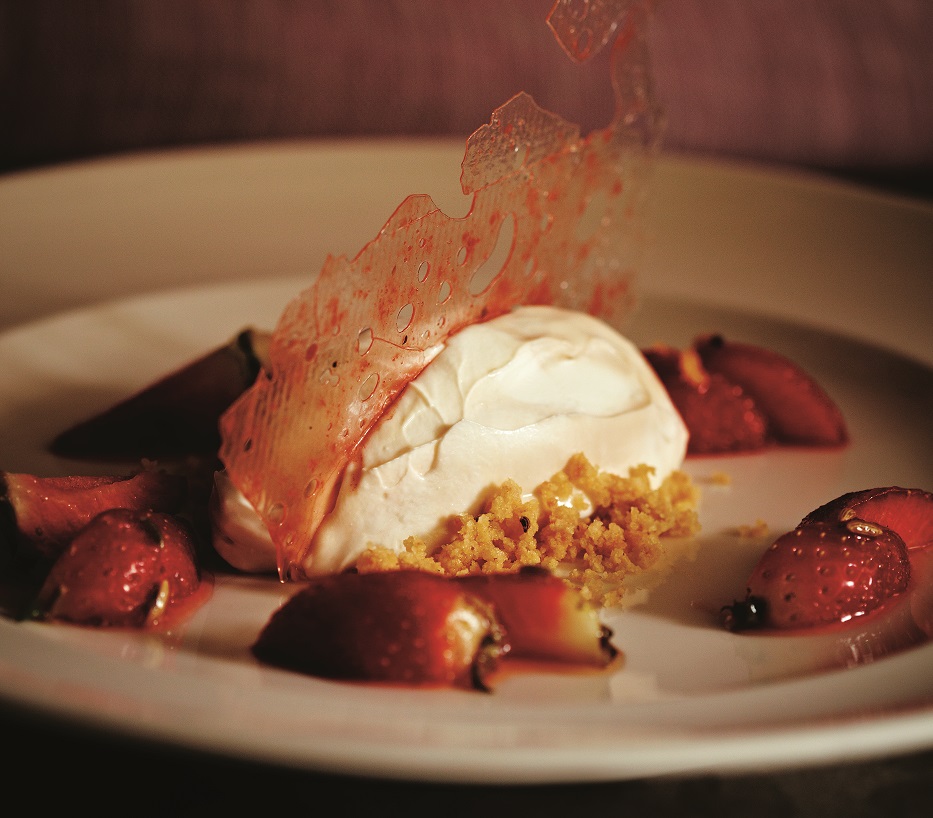 For the Cheesecake:
250g strained Greek yoghurt (500g yoghurt that is left to drain overnight)
100g Mascarpone cheese
100ml double cream, whipped to soft peaks
50g caster sugar
1/2 tsp ground cardamom
For the crumble base:
250g plain white flour
250g caster sugar
180g ground almonds
250g cold salted butter, diced
For the fennel and coriander flavoured strawberries
250g strawberries, hulled and some sliced and some left whole (or use any other berries in season)
Grated zest and juice of half a lime
2 mint leaves, finely shredded
1 teaspoon. fennel seeds, roasted and crushed
1 teaspoon. coriander seeds roasted and crushed
A pinch of salt
A pinch of sugar
Method:
To make the crumble base, mix together the flour, sugar and ground almonds, then rub in the butter until the mixture resembles coarse crumbs. Spread on a baking tray lined with greaseproof paper and bake in an oven preheated to 180C/Gas Mark 4 for 10-12 minutes, until golden brown. Remove from the pan and leave to cool, then use your fingertips to break into fine crumbles.
For the cheesecake, gently fold together all the ingredients and chill for 20 minutes.
To assemble the cheesecake, press a layer of the crumble about 1.5cm thick in a 15cm springform cake tin. Add the cheesecake mixture, smooth the surface and place in the fridge to chill for at least 2 hours.
Meanwhile, prepare the strawberries. Put the strawberries in a non-metallic bowl, add the remaining ingredients and toss gently. Leave to macerate for 10-15 minutes.
Slice or scoop he cheesecake onto serving plates and serve with the strawberries dotted around. In the restaurant we add strawberry caramel tuile.