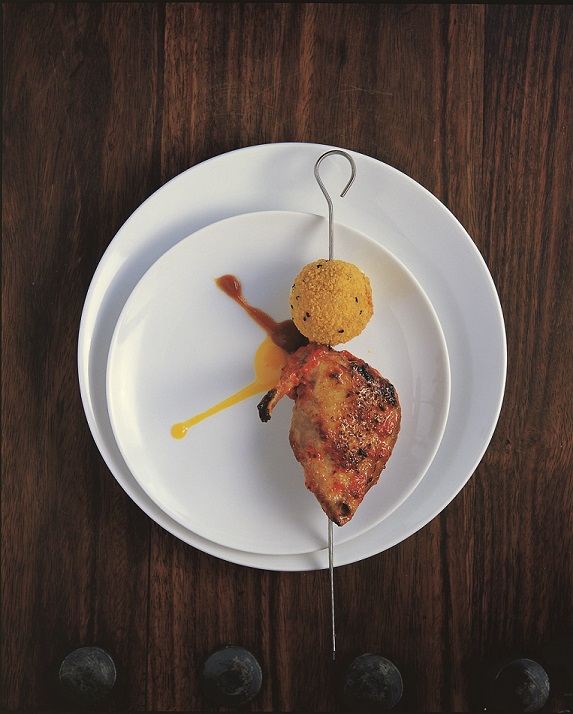 Although pigeons are eaten through out the sub-continent, you rarely see them on restaurant menus. I simply love the taste and texture of good quality pigeon, which is unusual and lot more interesting than the regular chicken you find on all menus!
This recipe uses most of the flesh on the squab but requires a friendly butcher to take the pain out of the preparation. The breast of the pigeon gets the tandoor treatment and the rest is minced into a stunning kebab. This is a user-friendly way of eating such a small bird that many are put off by because of dealing with the bones.
This version may be served with a little salad as an accomplished starter or with small quantities of black lentils and pilau rice as a stunning main course.
Serves 4 as a starter and 2 as a main
2 pigeons, breasts de boned but with the skin and the leg, liver and heart minced
For the breasts
5g ginger paste
5g garlic paste
3g salt
5g chilli powder
15ml lemon juice
30g crisp fried onions, blended into a paste
15g yoghurt
3g garam masala
15ml oil
For the kebabs
15ml oil
2g royal cumin seeds
50g onion, finely chopped
2g chilli powder
2g cumin seeds, roasted and ground
30g beetroot boiled, peeled and cut into ½ cm dices
10g ginger, finely chopped
5g green chillies, finely chopped
3g salt
5g fresh mint, chopped
2g garam masala
1 egg
100g golden breadcrumbs
Oil for frying
For the smoked paprika raita
100g cucumber, deseeded and cut into ½ cm dices
50g red onion, finely chopped
500g Greek style yoghurt, drained overnight in a muslin
5g fresh mint, chopped
2g sugar
5g salt
3g smoked paprika powder
Method
Pat dry the breasts and marinate with ginger paste, garlic paste, chilli powder, salt and lemon juice and leave aside for 20 minutes.
Then add the rest of the ingredients and set aside for another 10 minutes.
To make the kebabs, heat the oil in a pan, add royal cumin seeds and when they splutter, add the chopped onions and sauté till golden brown. Add the minced pigeon and beetroot and sauté for about 3 minutes. Now, add the red chilli powder and cumin powder and cook further till the mixture is almost dry. Add the ginger, green chilli, mint and salt. Remove from heat and allow the mixture to cool.
To prepare the smoked paprika raita, combine all the ingredients in a mixing bowl and refrigerate until use.
Cook the pigeon breasts in a hot tandoor for 2-3 minutes, or alternatively in an oven preheated to 200 ° C for 5 minutes. Allow it to rest for a couple of minutes.
Shape the cooked pigeon mince into four cakes. Dip them in beaten egg, then roll in breadcrumbs and deep fry till golden brown.
Serve the pigeon breast along with the fried kebab, smoked paprika raita.